In the Virtual Showroom you will find detailed information on Durst printing systems.
Durst Smart Shop
Durst Smart Shop is an innovative online shop system for the complete processing of print orders and the sale of products and services. With this all-in-one solution you can digitize and automate your Sales and Marketing process from the first customer contact up to the transfer of a print ready file to your production floor.
Why Smart Shop?
Increased Sales
Achieve higher sales through new orders with more variants and through automated processes.
Maximized conversion rate
Integrated online marketing analysis and monitoring tools support you in increasing your conversion rate.
Create independent marketplaces
Address specific target groups directly through individual websites or product offerings.
IMPROVED CUSTOMER SERVICE
With the Durst Smart Shop you are available 24/7. Interested parties can find out about your offer at any time.
BETTER COMMUNICATION
The shop serves as a platform for simple and clear communication with your customers - misunderstandings are avoided.
360° SERVICE
We accompany you from the conception of your e-business to the design adaptation and the live launch of the store.
SUPPLY CHAIN OPTIMIZATION
Easier access to products for your customers helps you optimize supply chains.
SHORTER RESPONSE TIMES
The simple administration in the backend allows you to make changes to the store or your products yourself at any time.
GATEWAY TO DIGITAL PRODUCTION
We integrate your Smart Shop into the Durst workflow as well as into your own production environment.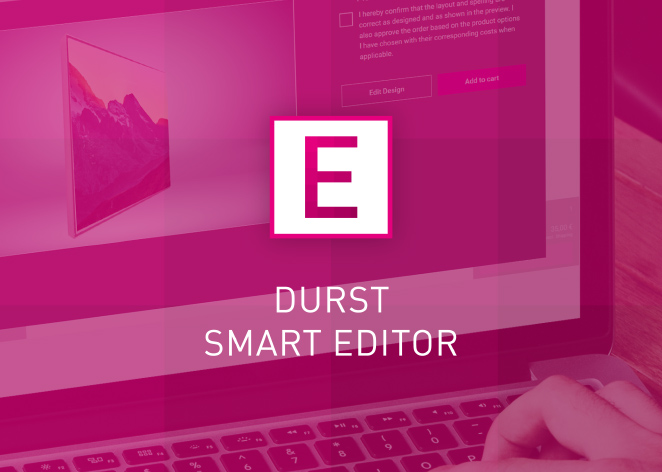 DURST SMART EDITOR
Durst Smart Editor is a cloud-based application that allows personalized print products to be designed directly in the web-browser. It is easy to integrate into your existing web shop via API. Allow your customers to get exactly what they want with real-time product customization and realistic previews and receive their orders as a print-ready files.