In the Virtual Showroom you will find detailed information on Durst printing systems.
Durst continues digital disruption in the wallpaper printing industry
News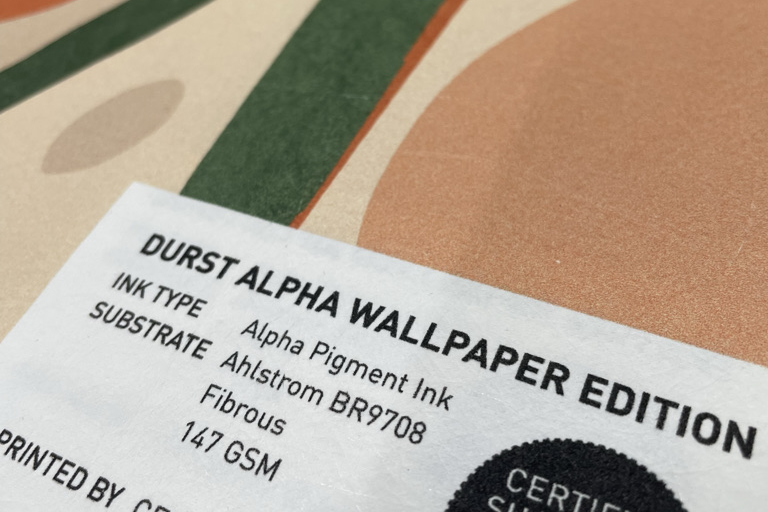 Durst Group continues the adaptation of its digital printing technology in the wallpaper printing industry, again initiating a digital disruption. Because in this industry, too, a shift from conventional printing presses to more sustainable production processes that reduce water and energy consumption, offer new flexibility, and enable smaller volumes inexpensively and without warehousing costs with Print-On-Demand is in full swing.
With the "What if" campaign, Durst launched an initiative at an open house at Durst headquarters in Brixen for wallpaper print producers to embrace this change and take the step out of the limitations of conventional printing. First movers and current customers of Durst Alpha Wallpaper Edition presented the transformation of their business models and their successes to date at the event.
The tenor here was that wallpaper has long since ceased to be a "renovation object" and has become a lifestyle product with which customers express their individuality and create a feel-good atmosphere. But not only private customers are the target group here, but in particular also hotels, the hospitality industry up to brand companies, which use the wallpapers as part of their brand staging.
However, the new design variety made possible by digital printing is not the sole driver, but also new environmentally friendly materials that are odor-free and can even be made from recycled raw materials. In addition, wallpaper is now easy to apply using innovative systems and is available in a variety of sizes and widths.
The digital disruption in this industry is increasingly coming from Europe, but the USA and other markets are also increasingly moving in this direction. This is because retailers in particular are increasingly relying on changing collections and smaller volumes in order to test designs in the stores and only then order larger follow-up quantities. Thanks to the excellent reproducibility in digital printing with Alpha Wallpaper Edition, this is possible on-demand at any time and volume sizes of up to 500 rolls can be produced cost-effectively.
The consensus among the participants at the event was that volumes in conventional printing will continue to decline and digital demand will grow by at least 25%, depending on the producer. In this context, times of crisis such as the COVID pandemic are even accelerators of this development, as customers can now conveniently order their wallpapers and designs from countless e-commerce stores.
The Durst Alpha Wallpaper Edition is currently the most productive digital printing system on the market, with a production capacity of over 1,500 rolls per day or up to 1.2 million linear meters per year. In addition to productivity and outstanding color consistency across the entire print width or run length, TCO is particularly crucial for producers. This is where Durst scores with its expertise in print quality and ink consumption. With Durst Alpha Pigment Inks, Durst also offers fully water-based inks in 8 colors that enable "Healty Sustainable Designed Wallpaper", with a natural and high-quality look.
Durst Alpha Wallpaper Edition prints can also be combined with various finishes or analog finishing steps and fully automated.
For the wallpaper industry, Durst Alpha Wallpaper Edition offers a future-proof ecosystem for their digital transformation. Durst combines printer, ink, software and service in a holistic approach and continuously develops the associated technologies with its customers.